Natural Fat Burner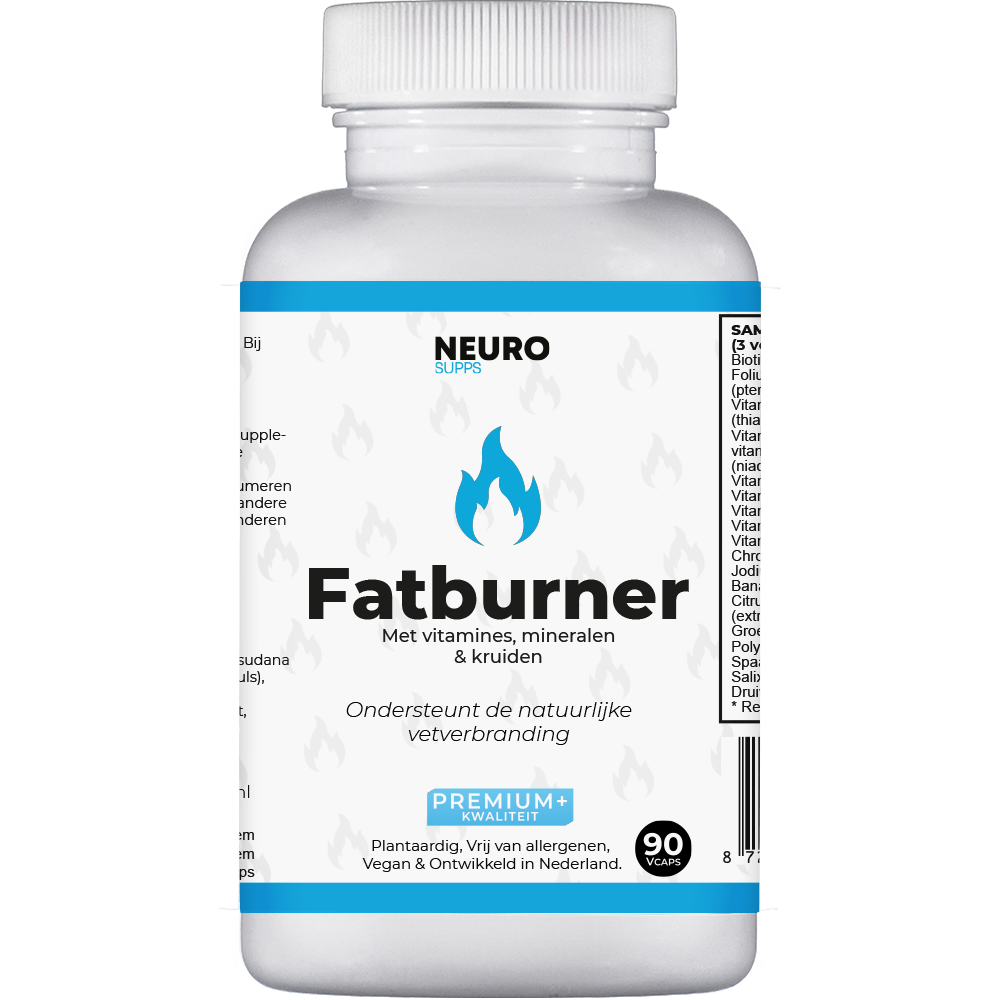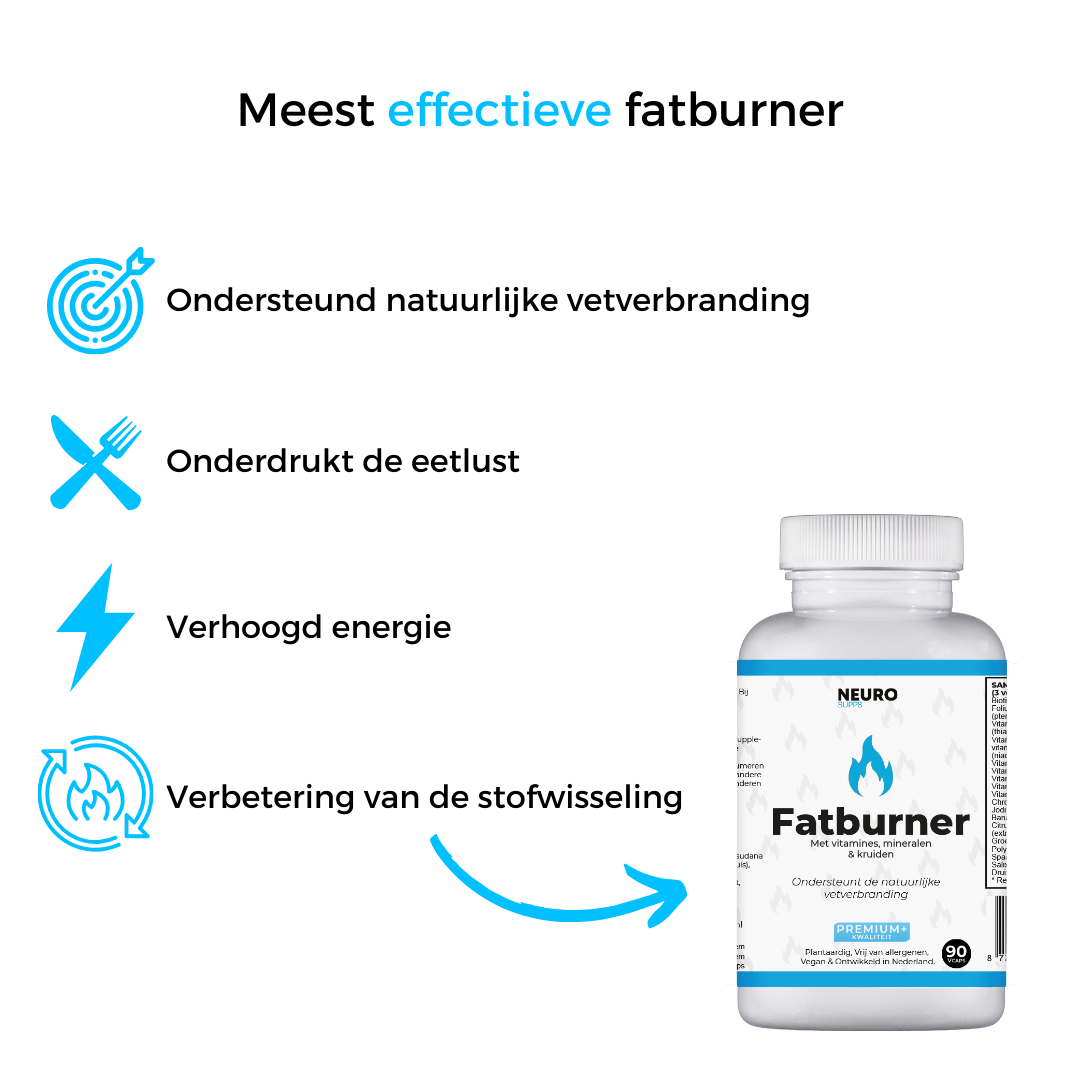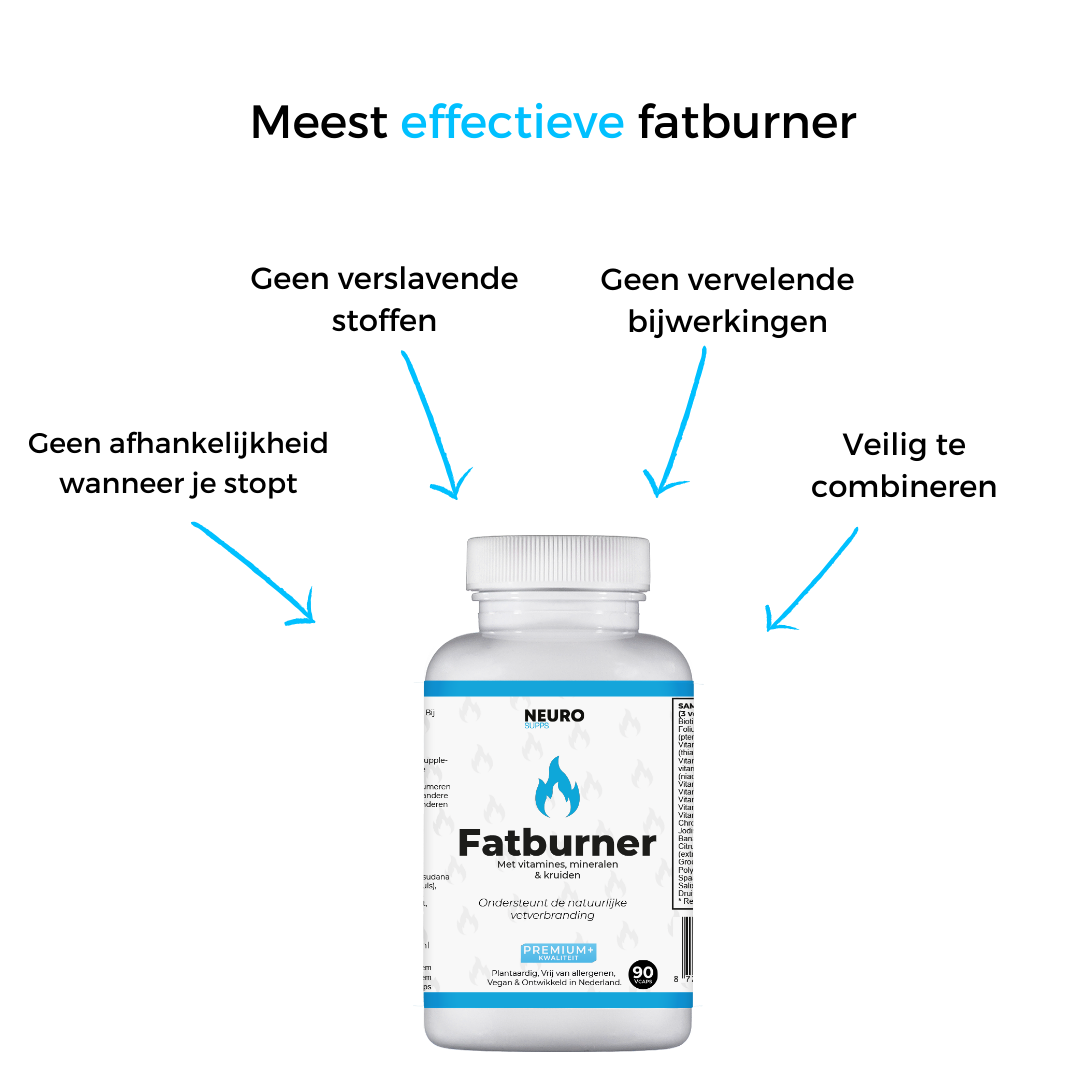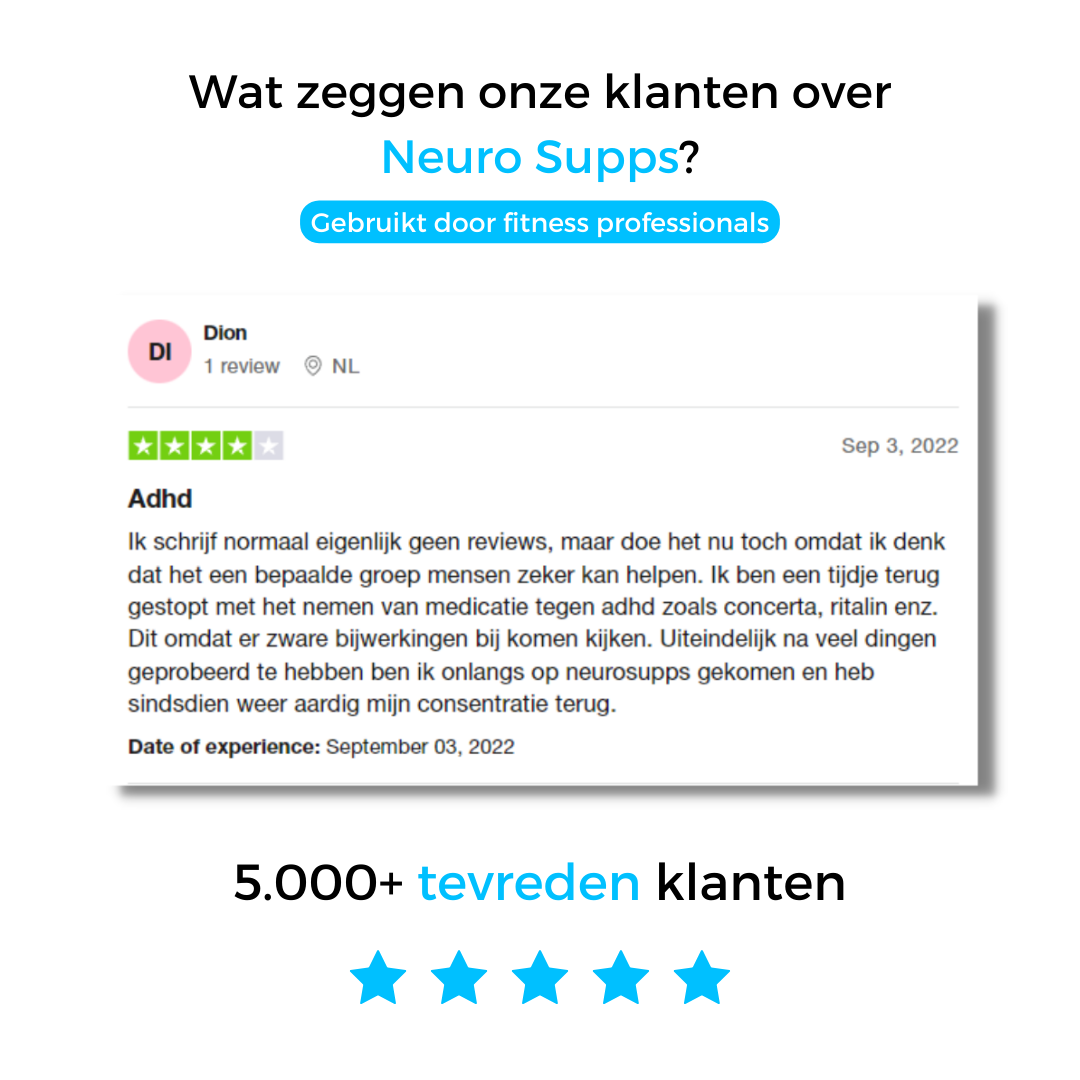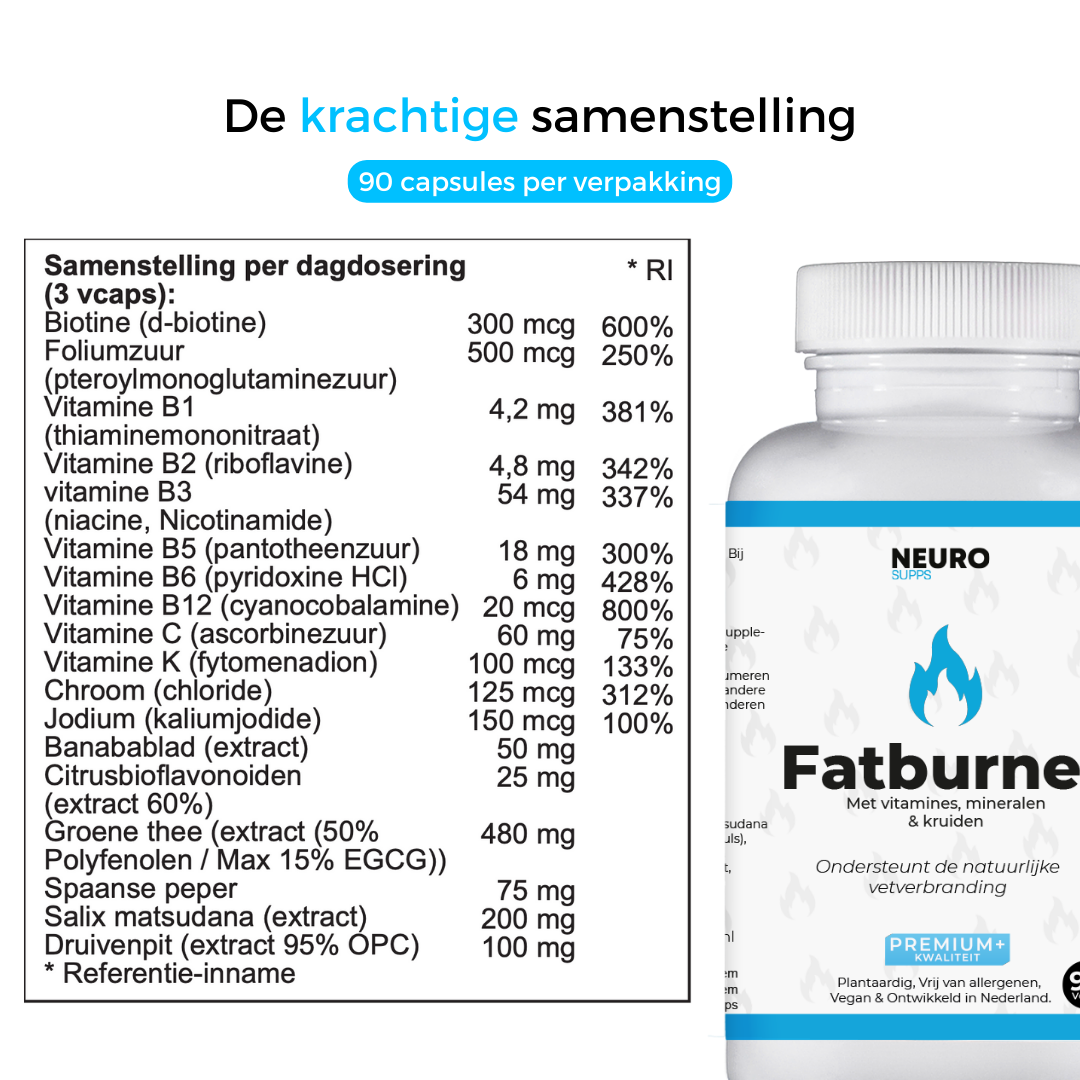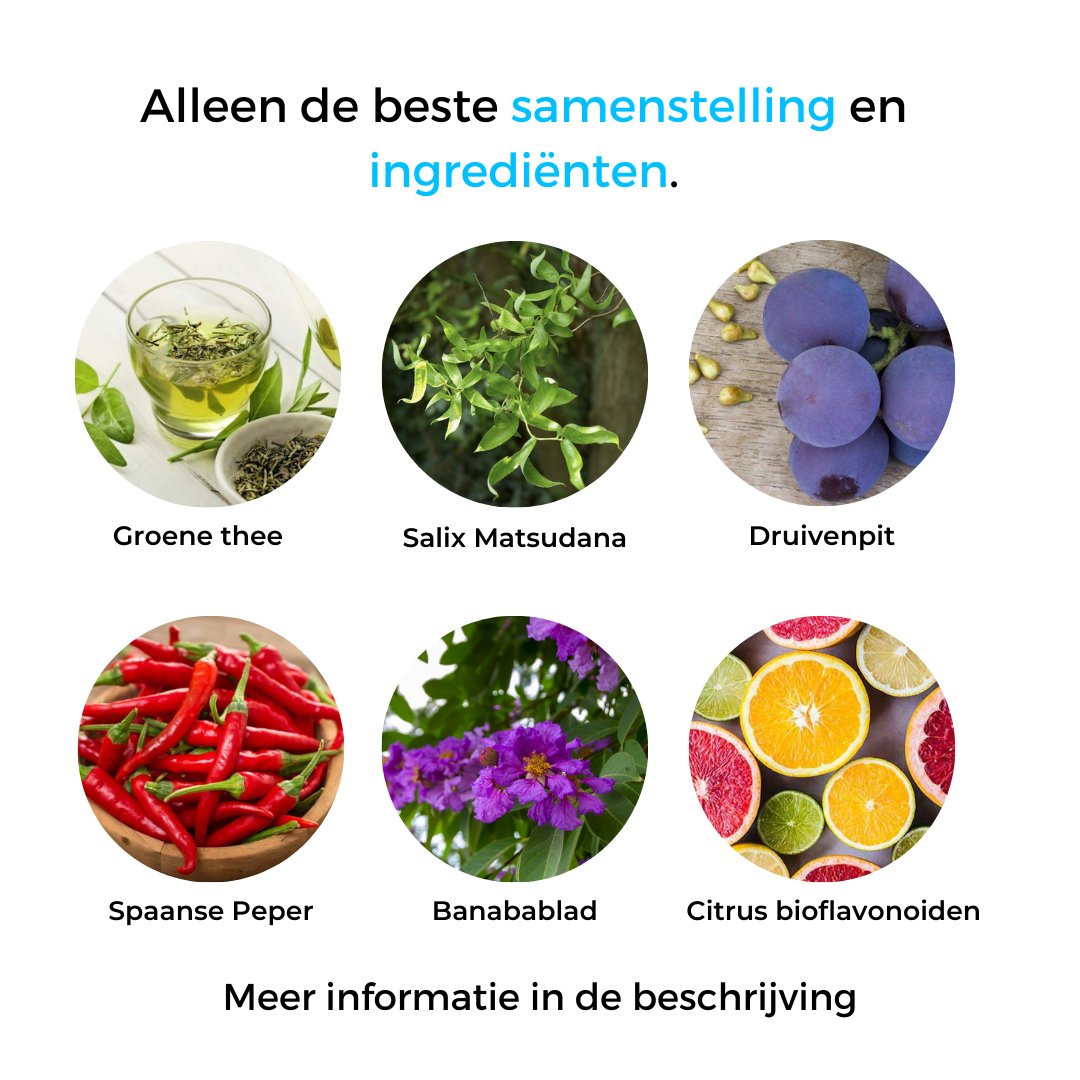 Natural Fat Burner
Regular price
€3999
€39,99
Ordered before 9:00 PM = delivered the next working day
Low stock - 2 items left

Inventory on the way
---
Strive for your optimal body with our advanced FatBurner, a masterfully formulated blend of essential vitamins, minerals and powerful herbs. This meticulous formulation is designed to support you in achieving your fitness goals by stimulating natural fat burning and boosting your energy.
Characteristics
90 Capsules
Natural blend of herbs, minerals and vitamins
Honest and innovative dosed
Supports natural fat burning
May improve energy and focus
Stronger formula in smaller capsules.
Each element in our fat burner has been carefully selected to contribute to your goals:
Biotin (300 mcg, 600% DV): Also called vitamin B7, this important vitamin plays a role in the metabolism of fats and carbohydrates while also supporting the health of your hair and skin.

Folic acid (500 mcg, 250% DV): Also known as vitamin B9, folic acid supports metabolism and contributes to normal blood formation.

A powerful vitamin B complex (B1, B2, B3, B5, B6, B12): This group of vitamins is essential for optimal metabolism and energy production. They work together to convert nutrients into usable fuel, while also contributing to the maintenance of a healthy nervous system and mental clarity.

Vitamin C (60 mg, 75% DV): An antioxidant that not only supports your immune system, but also aids in iron absorption and contributes to normal energy metabolism.

Vitamin K1 (100 mcg, 133% DV): Important for blood clotting and bone health.

Chromium (125 mcg, 312% DV): This mineral helps maintain normal blood sugar levels, which can be critical in weight management.

Iodine (150 mcg, 100% DV): Essential for the normal production of thyroid hormones, which in turn contribute to normal metabolism.
And then we have the powerful herbs:
Green Tea Extract (480 mg, 50% polyphenols / max 15% EGCG): Known for its thermogenic properties, green tea can boost your metabolism while also helping to suppress appetite.

Banaba Leaf Extract (50mg): This extract may help regulate blood sugar levels, which in turn may help reduce cravings.

Citrus Bioflavonoids (25 mg, 60%): These powerful antioxidants support your immune system and may aid in the absorption of vitamin C.

Capsicum (75mg): Known for its thermogenic properties, Capsicum may help increase metabolism and burn calories.

Salix matsudana extract (200mg): This extract may help suppress inflammation and contribute to a healthy metabolism.

Grape Seed Extract (100mg, 95% OPC): This extract is a powerful antioxidant that can protect your body from free radical damage.
Our fat burner is a complete support for your weight management and energy needs, with carefully researched ingredients in perfect doses. Make the right choice for your body and your goals, and let our fat burner guide you on your way to a healthier, more energetic and more confident version of yourself
Nutritional information
Per 3 capsules Vitamins:
Biotin 300 mcg: 600% RI*
Folic acid: 500 mcg 250%RI*
Vitamin B1: 4.2mg 381%RI*
Vitamin B2: 4.8mg 342%RI*
Vitamin B3: 54mg 337%RI*
Vitamin B5: 18mg 300%RI*
Vitamin B6: 6mg 428%RI*
Vitamin B12: 20mcg 800%RI*
Vitamin C: 60mg 75%RI*
Vitamin K1: 100mcg 133%RI*
Minerals
Chromium: 125 mcg: 312%RI*
Iodine: 150 mcg 100%RI*
Spices
Banaba leaf: 50 mg
Citrus bioflavonoids: 25 mg
Green tea: 480mg
Chili pepper: 75 mg
Salix matsudana: 200mg
Grape seed: 100 mg
*Reference Intake
3 capsules per day, with plenty of water. Preferably spread over the day and during a meal.