Relax Formula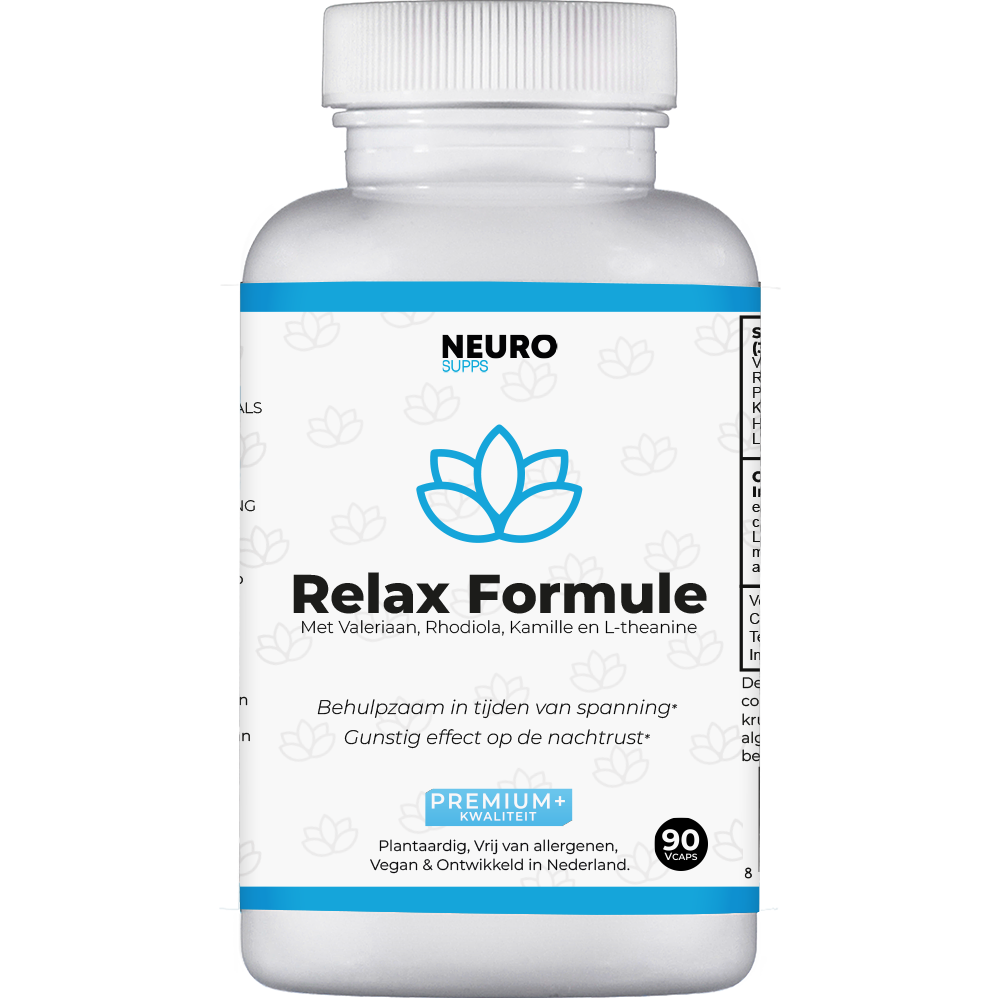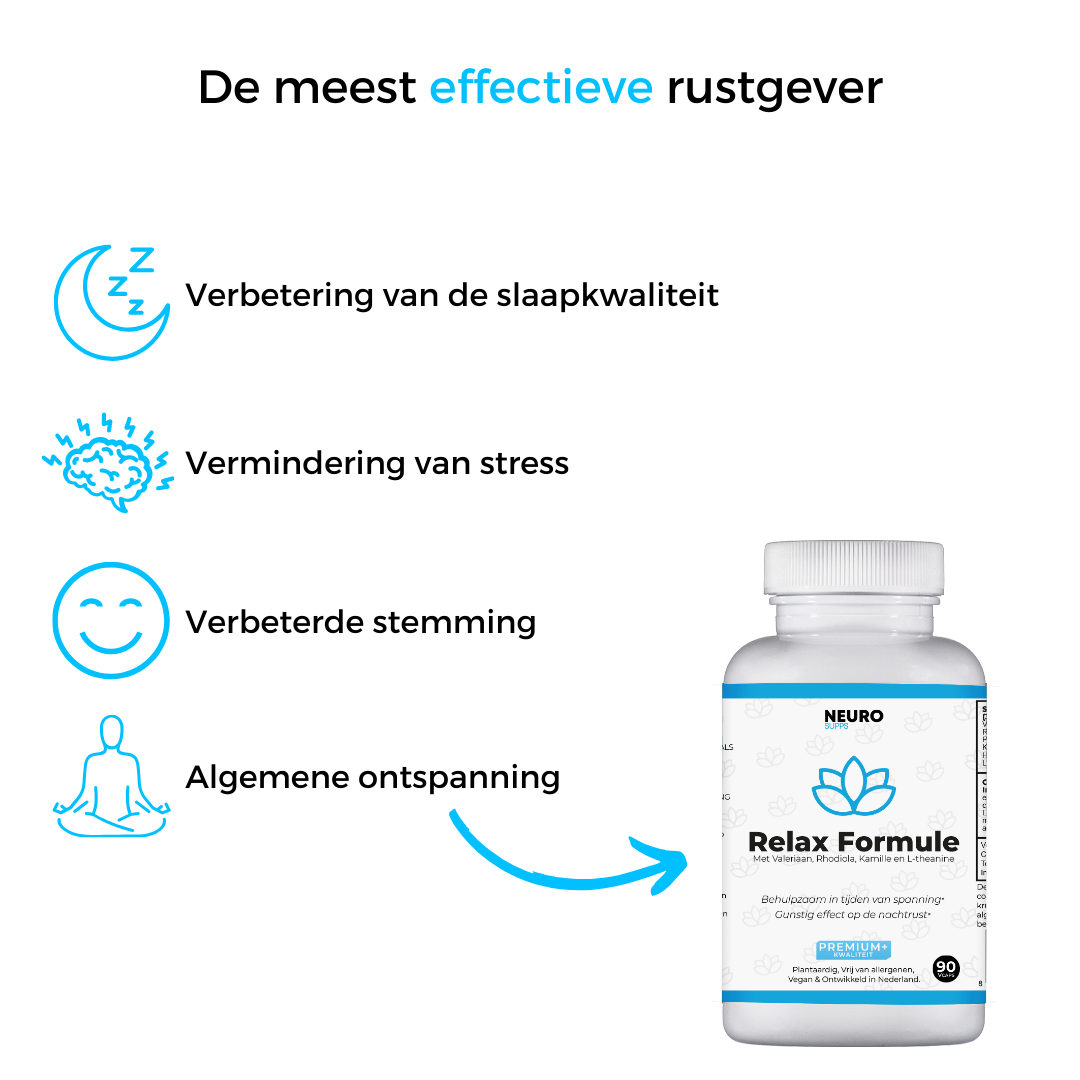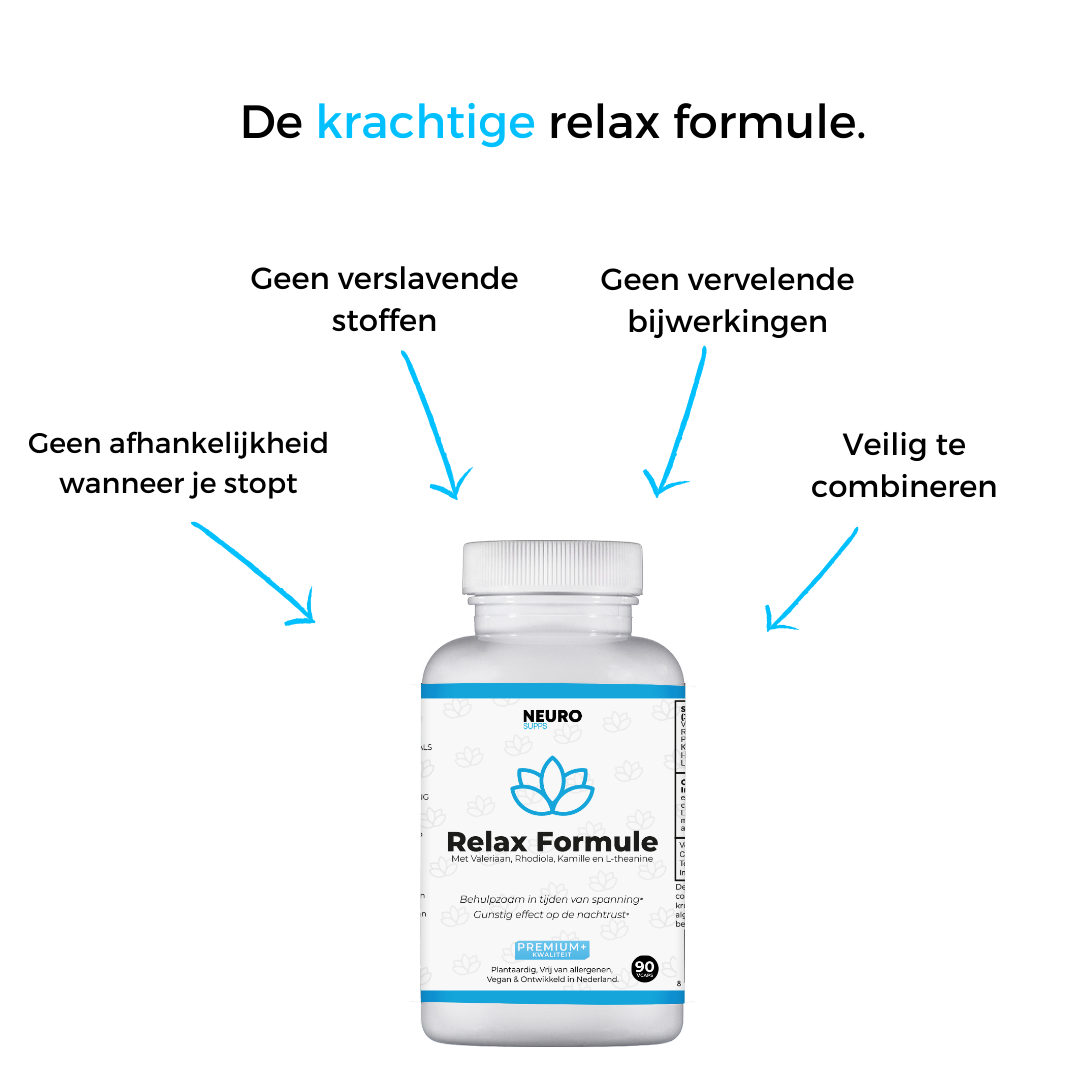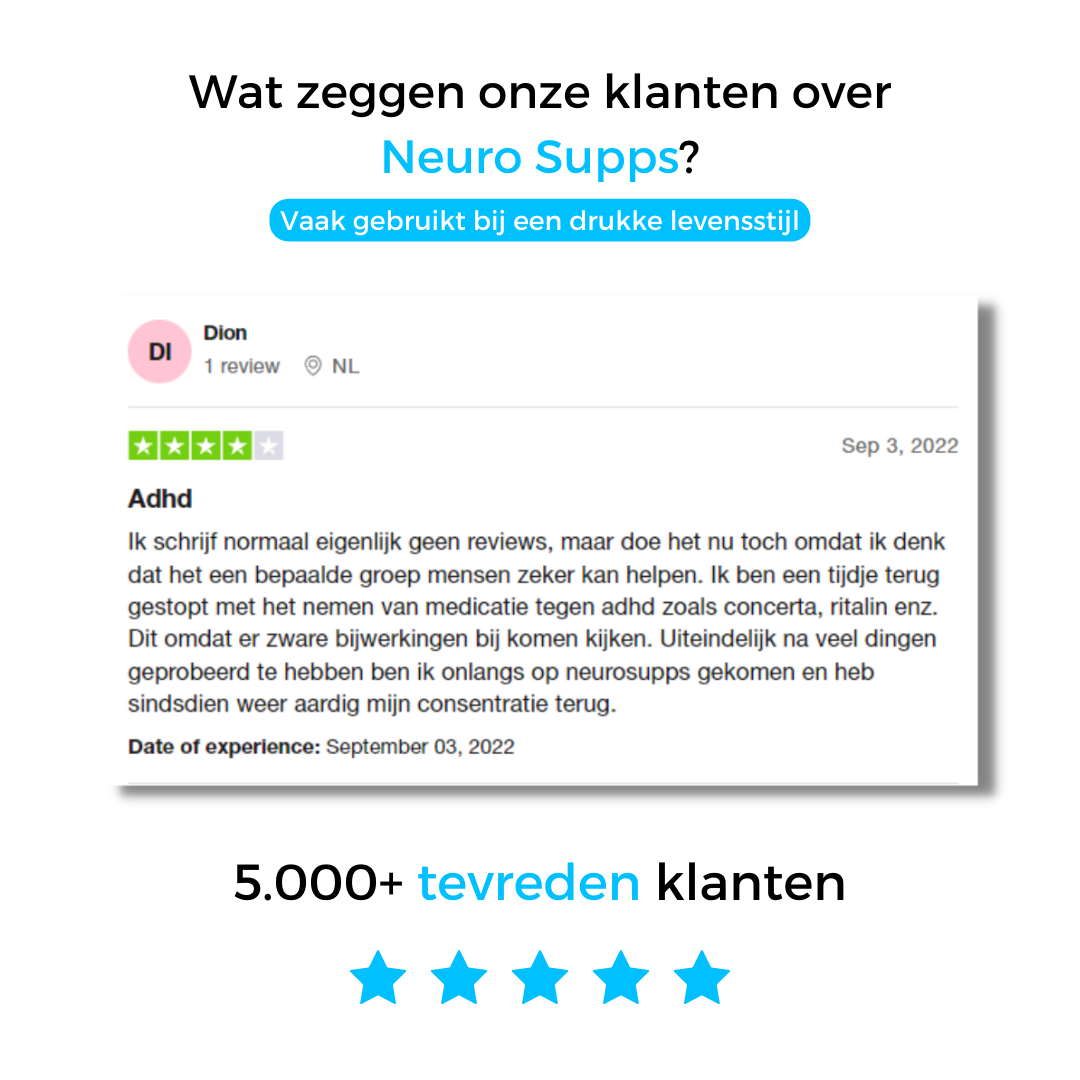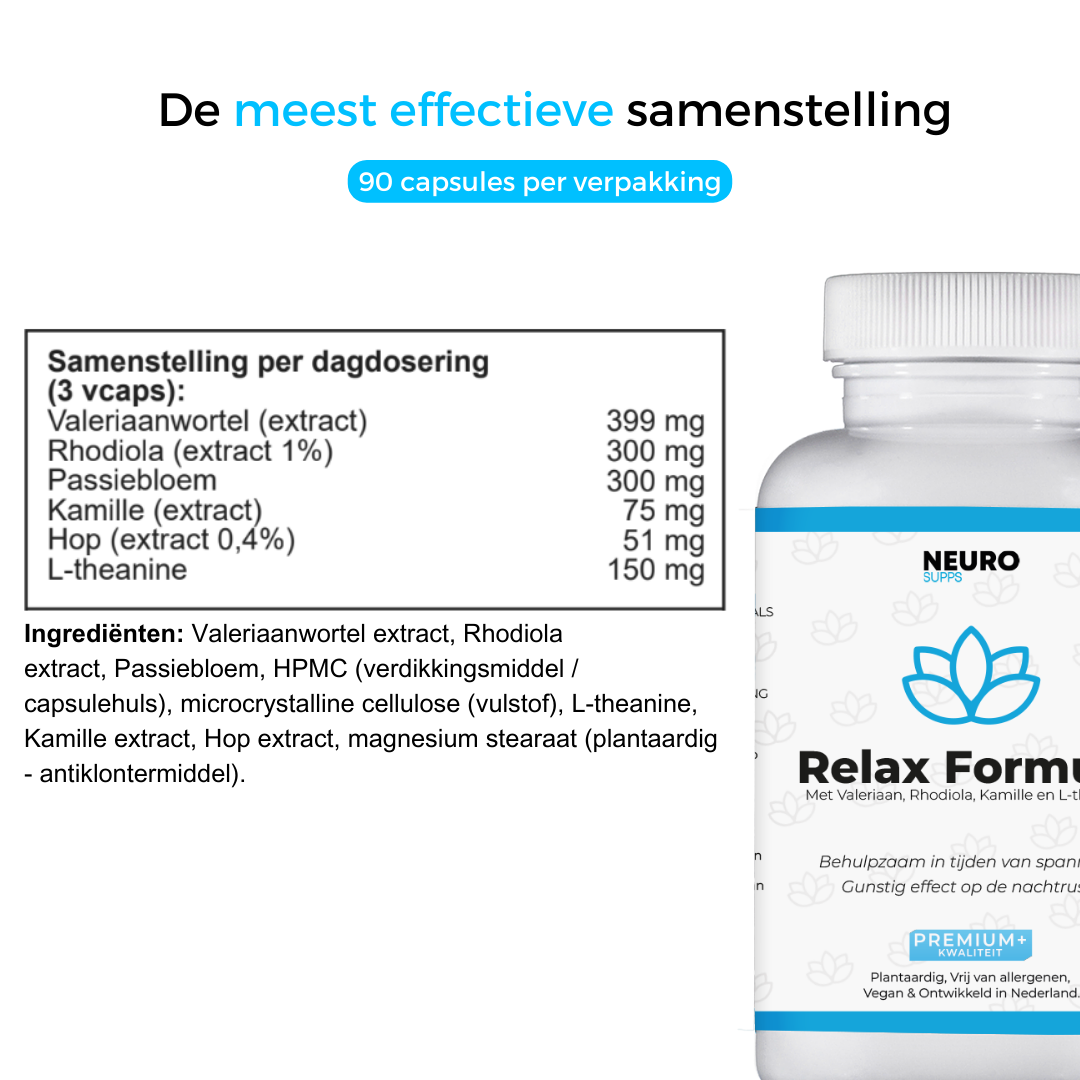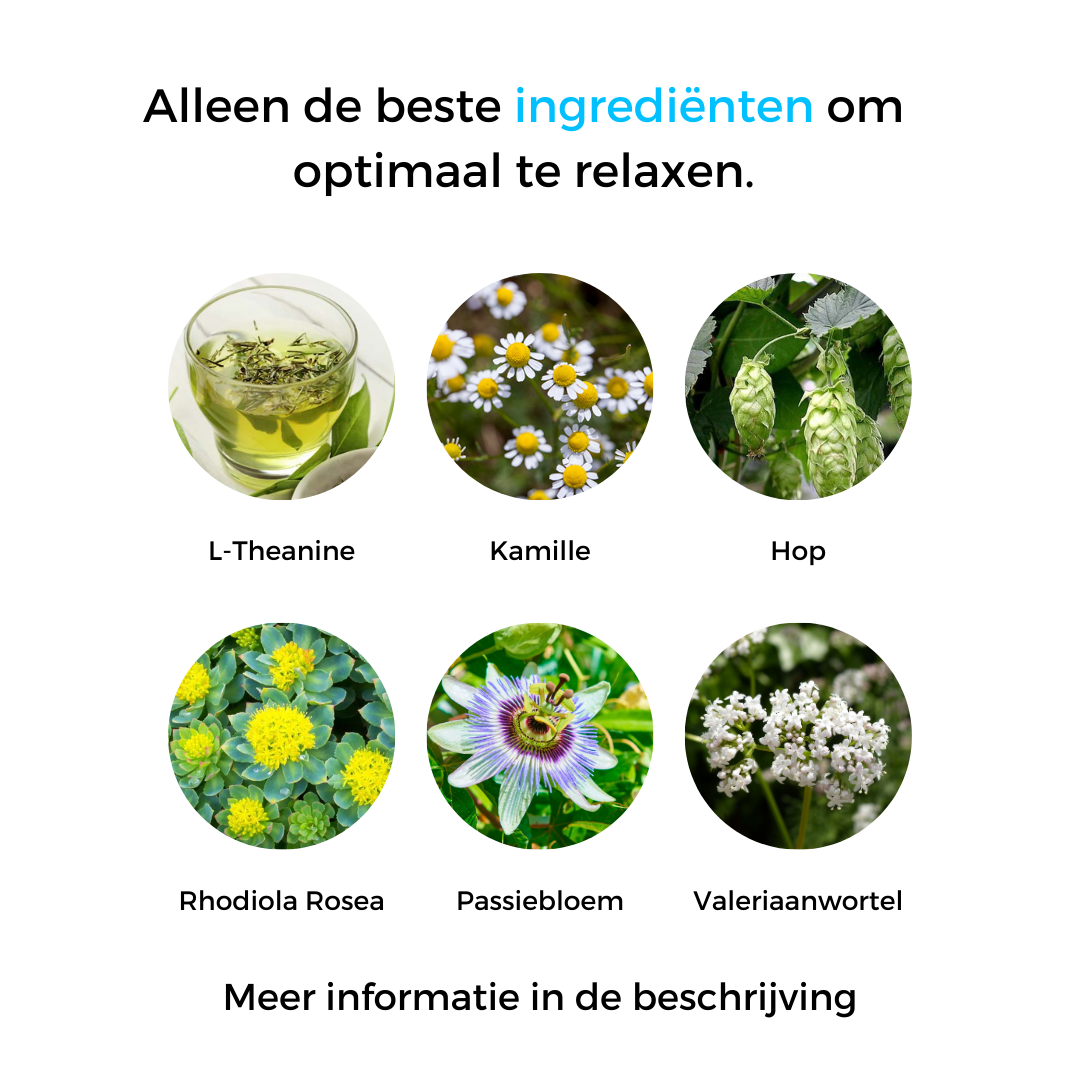 Relax Formula
Regular price
€3999
€39,99
Ordered before 9:00 PM = delivered the next working day
In stock, ready to ship

Inventory on the way
---
Neuro Supps Relax Formula
Our relax formula is a unique supplement with natural herbs designed to help during times of stress and tension. The Neuro relax formula is composed by combining 6 powerful herbs in 1 capsule for easy intake and dosing.
Only natural ingredients: This nootropic stack consists of only natural ingredients.
Developed against stress and tension: This nootropic stack is formulated so that you can relax better in busy times.
Favorable effect on sleep: The ingredients of our relax formula have a beneficial effect on sleep.
Not addictive: This supplement is not addictive, you can stop and start whenever you want. However, we recommend using it continuously for optimal results.
Perfect dosages: The dosages are scientifically substantiated and researched.
For whom and when?
· In case of stress and tension
· For everyone who can use a moment of rest
· For better sleep and relaxation
· With anxiety
· For improving your overall well-being and calmness.
· For mental balance
The ingredients
150mg L-theanine
Often used as a dietary supplement to promote a sense of relaxation and calm. It can help reduce stress and support a sense of well-being. L-theanine is often taken by people looking for natural support for a balanced focus without feeling restless.
300mg Rhodiola
Also known as rose root, is an herb commonly used in traditional medicine. People use Rhodiola rosea as an adaptogen, meaning it can help relieve stress and promote general well-being. It is also sometimes taken to support cognitive function and maintain a healthy mood.
399mg Valerian Root
Valerian (Valeriana officinalis) is a flowering plant with fine flowers and a typical scent. Its root contains valeric acid, a substance known as a sedative. Valerian root has been used for centuries in herbal medicine for stress, anxiety, nervousness and sleeping problems.
300mg Passion Flower
Passion flower has a calming effect and supports a good night's sleep. In addition, it is also used in times of stress, because of its relaxing influence. Passion flower can be used in menopause because of this soothing influence.
51mg Hops
Hops are traditionally used for their calming properties and can help reduce feelings of anxiety and stress. Hops have a sleep-inducing and relaxing effect. It thus contributes to optimal relaxation and healthy sleep.
75mg Chamomile
Chamomile, a powerful sedative herb, has been carefully chosen for its ability to reduce stress and tension in the body. This natural herb offers relief from fatigue, lethargy and even nervous transitional complaints such as hot flashes. The well-known cup of chamomile tea has long been known for its soothing effects and promoting calmness. This makes chamomile an excellent supplement, especially in the evening when it can contribute to a peaceful night's sleep.
Bundles
Our relax formula is often purchased together with the Ashwagandha, GABA, Sleep Formula and Neuro Nootropics products from Neuro Supps.
Find natural relaxation with our relax formula - a blend of powerful herbs for stress relief and better sleep. Easy intake, no risk of addiction. Add calmness to your daily life with Neuro Supps!
Nutritional information
Per 3 capsules Valerian Root (Extract) 399 mg
Rhodiola (Extract 1%) 300mg
Passion Flower 300mg
Chamomile (Extract) 75mg
Hops (Extract 0.4%) 51mg
L-Teanine 50mg
Take 2 to 3 capsules per day with plenty of water. Preferably during a meal. Or as advised.