Caffeine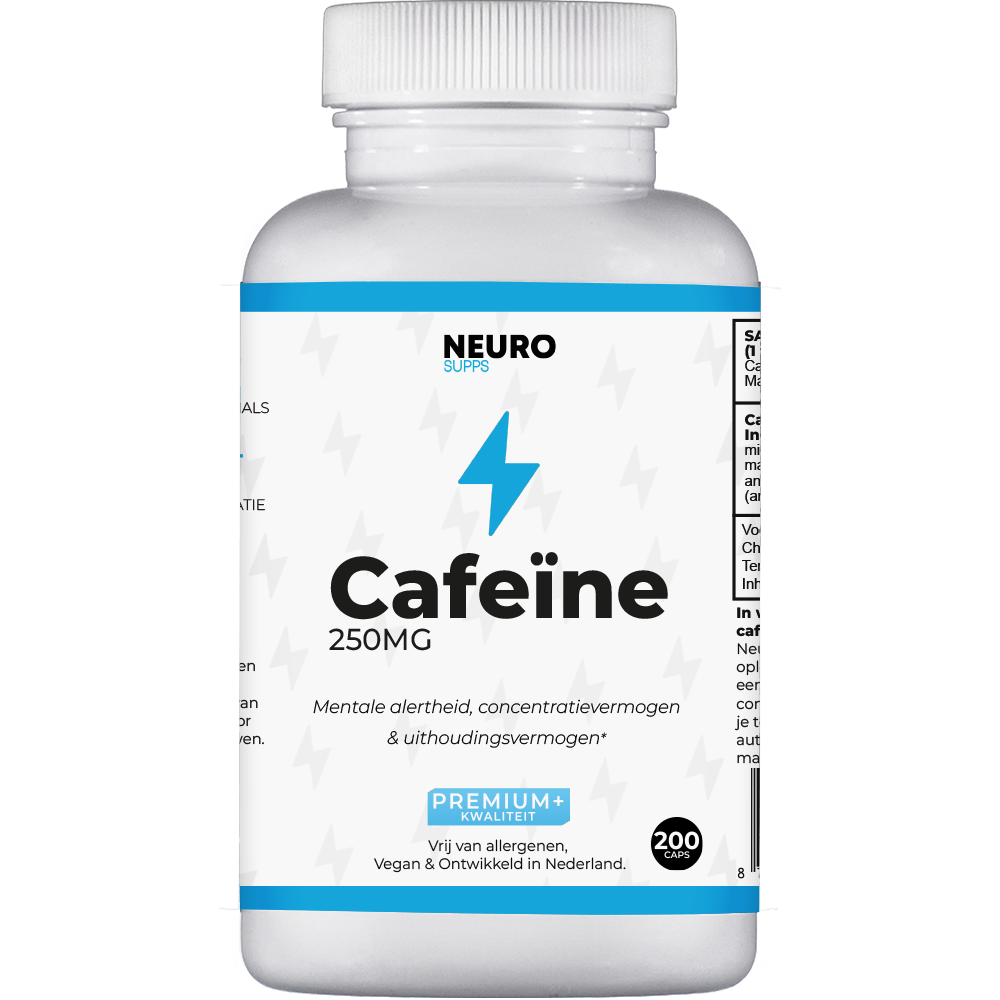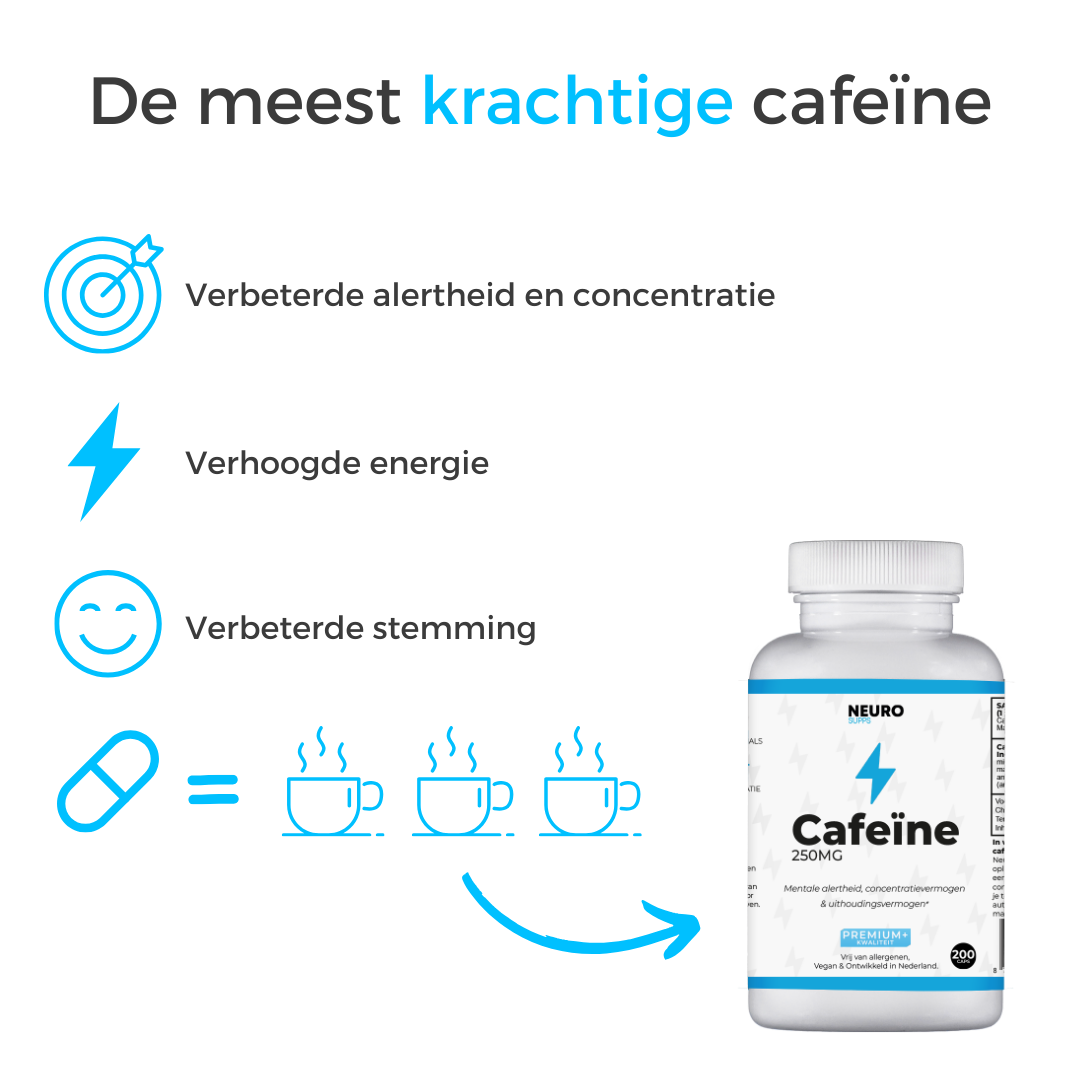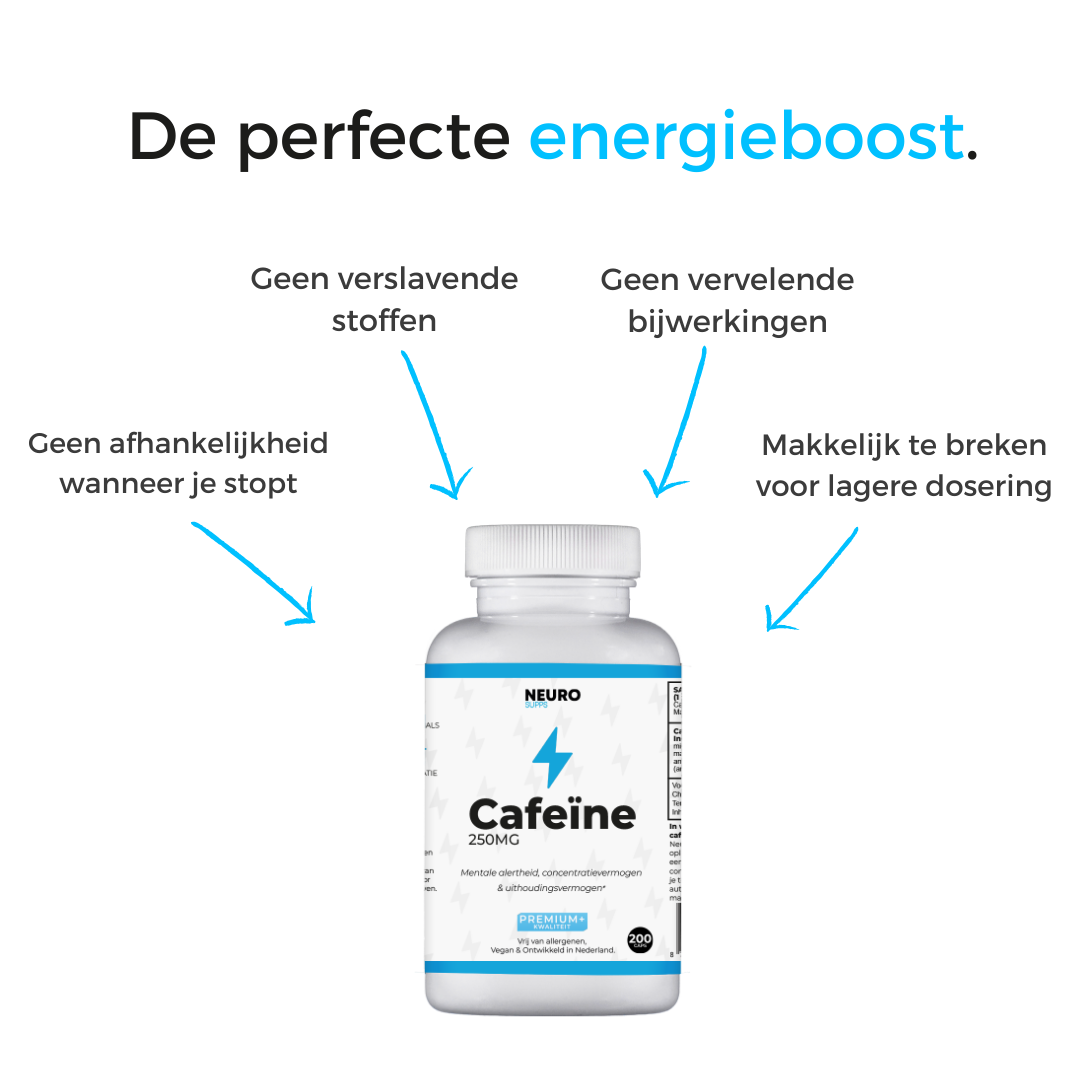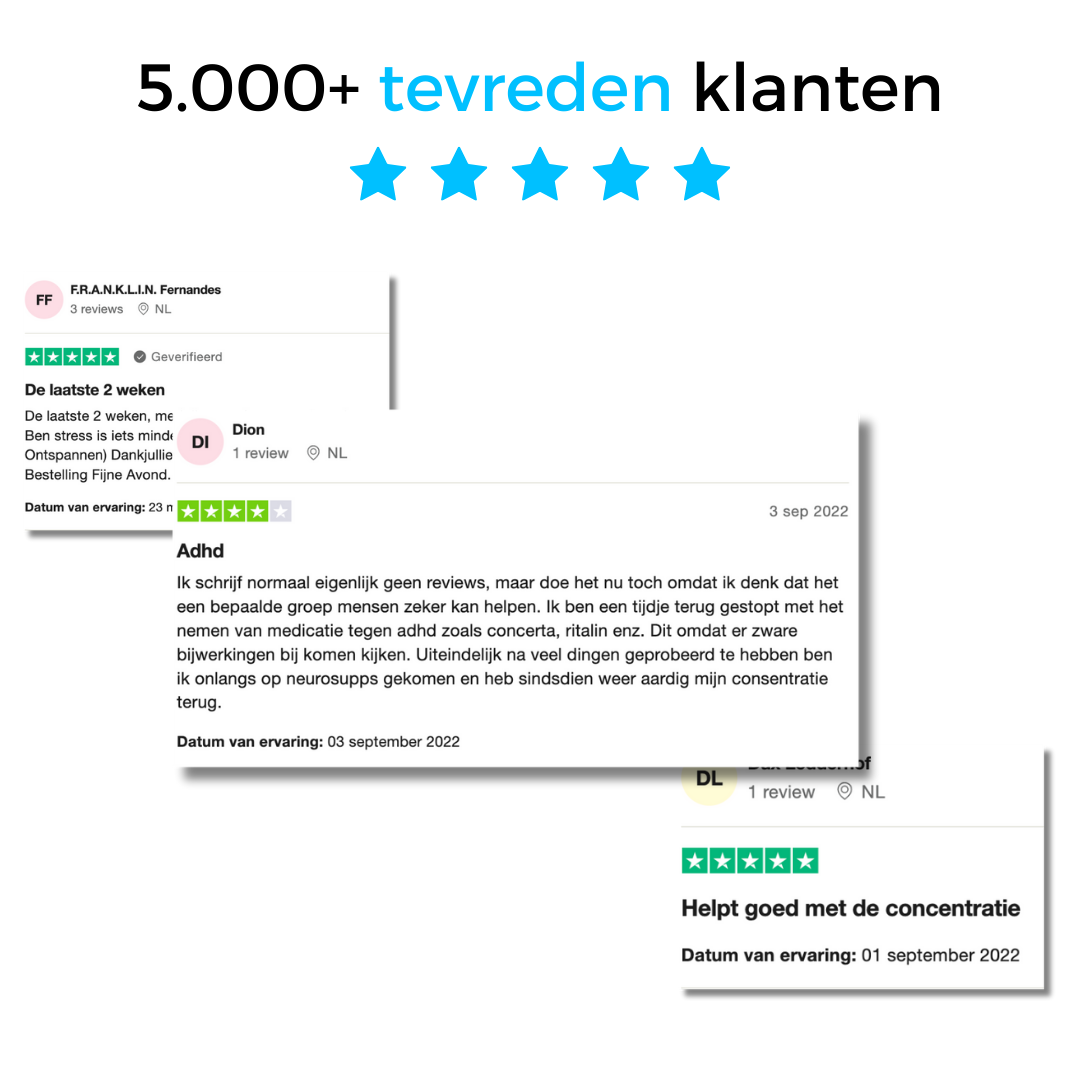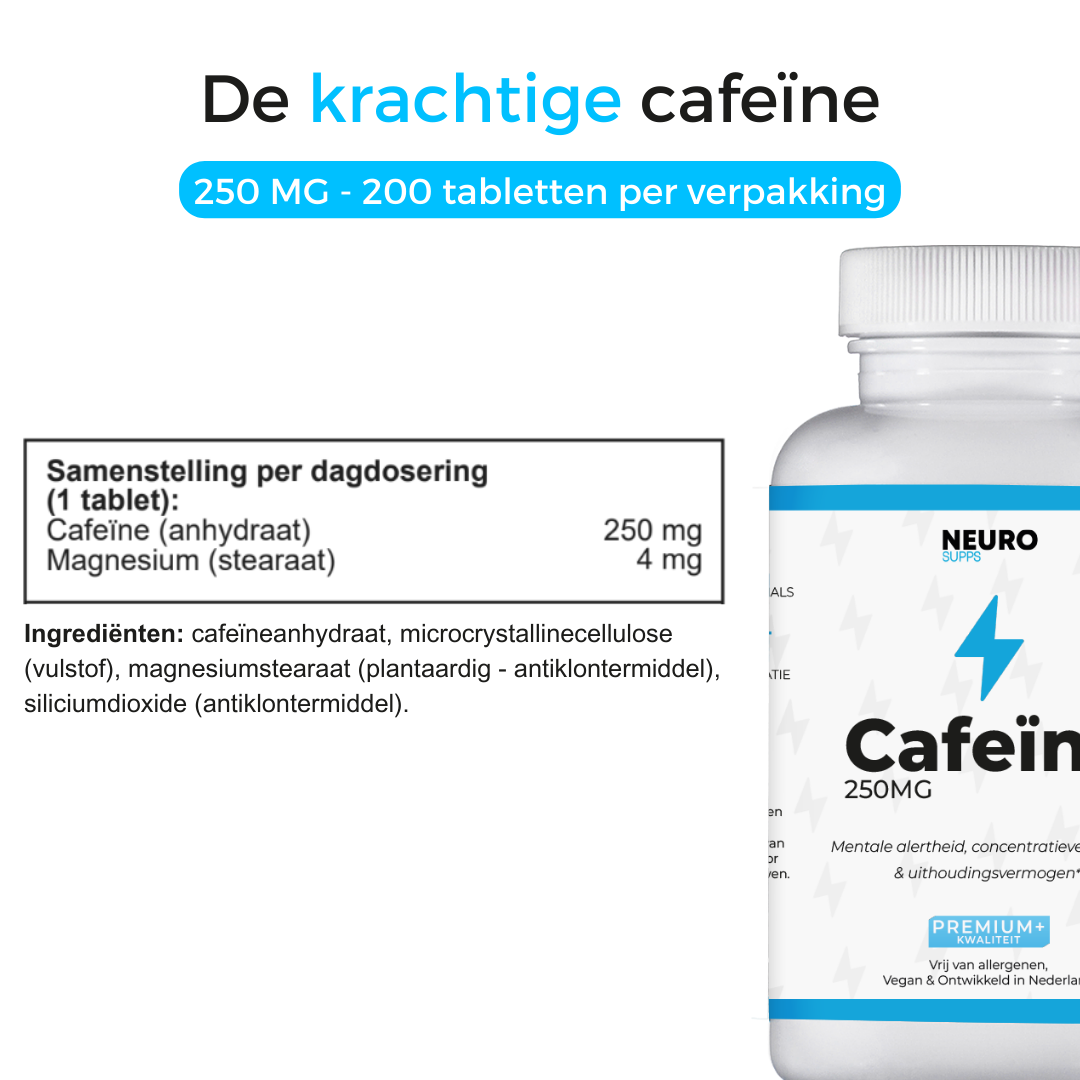 Caffeine
Regular price
€2499
€24,99
Ordered before 9:00 PM = delivered the next working day
In stock, ready to ship

Inventory on the way
---
Features Neuro Supps Caffeine Pills
· 250 mg caffeine per tablet.
· 200 highly dosed caffeine tablets per jar.
· Positive effect on concentration.
· Energy boost for work, study, training, partying and driving.
Precise Dosage: Our pills provide precise caffeine dosing so you can take the desired amount and regulate your energy levels.
No calories or added sugars: Our caffeine pills are free of calories and added sugars, making them a healthy choice for those looking to limit their calorie intake.
Portable and Convenient: Take our caffeine pills with you wherever you go and enjoy the convenience without the hassle. No need for coffee makers or waiting in line.
· Stomach friendly: Prevent possible stomach irritation that some people experience when drinking coffee. Our caffeine pills do not contain acids that can irritate the stomach.
Flexible intake: Take caffeine when you need it, regardless of the time of day. Adjust your caffeine intake to fit your schedule and energy needs without depending on coffee availability.
Extensive product information
Neuro Supps Caffeine Pills provide a powerful solution for anyone looking for a natural energy boost and improved concentration. These pills are specially designed to support you in work, study, driving, partying and training, so that you can get the most out of your day or night.
Each Neuro Supps caffeine pill contains 250mg of pure caffeine, giving you an immediate and long-lasting boost. This dosage has been carefully optimized to provide you with the right amount of energy without feeling overwhelmed.
Neuro Supps caffeine pills contain no other active ingredients. We've chosen to focus on the sheer power of caffeine, so you know exactly what you're getting and there are no unnecessary additives.
The recommended dose is one tablet at a time. It is important not to exceed the recommended dosage. We recommend maintaining a healthy lifestyle and using these pills as part of a balanced diet. Please note that this dietary supplement is not a substitute for a varied diet.
Neuro Supps caffeine pills are suitable for vegetarians and vegans, and are free of allergens such as gluten, dairy and nuts. We understand that people have different dietary preferences and needs, which is why we've created a broadly applicable supplement.
When used properly, there are no known side effects of Neuro Supps caffeine pills. However, it is important to remember that caffeine is a stimulant and individual sensitivity can vary. When in doubt, always consult a healthcare professional.
Neuro Supps caffeine pills are suitable for long-term use and can be safely integrated into your daily routine. They provide a reliable source of energy and concentration, so you can always perform at your best.
We are proud that Neuro Supps caffeine pills are scientifically backed. Numerous studies have shown the positive effects of caffeine on concentration, alertness and performance. With Neuro Supps you get the benefits of this proven formula in convenient pill form.
Add Neuro Supps caffeine pills to your routine and enjoy the benefits of increased concentration and a long-lasting energy boost. With Neuro Supps you get the best out of every day!
Nutritional information
Per 1 capsule Caffeine (anhydrate): 250 mg Magnesium (stearate): 4mg
1 tablet per day, with water.