Neuro Nootropics - Concentration Formula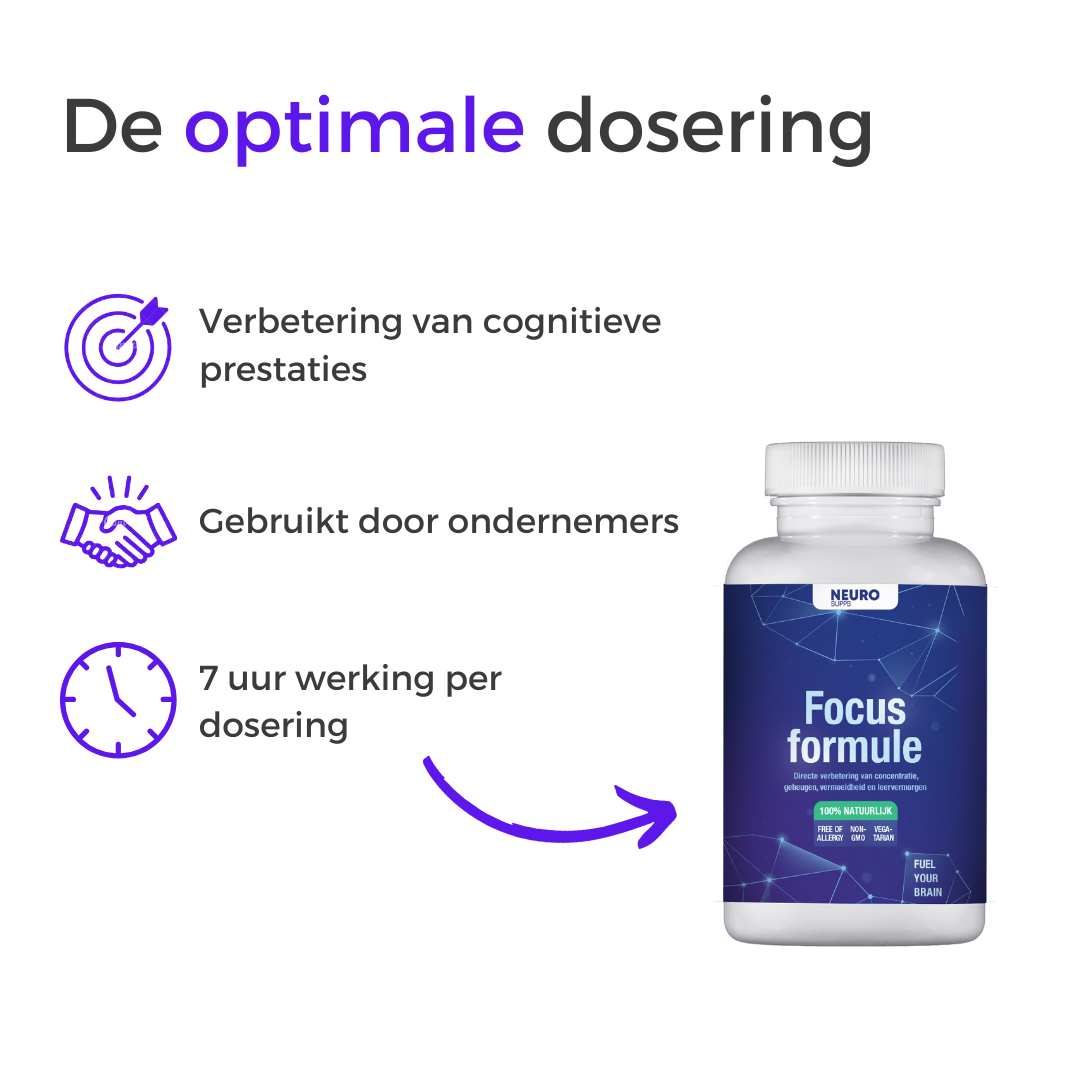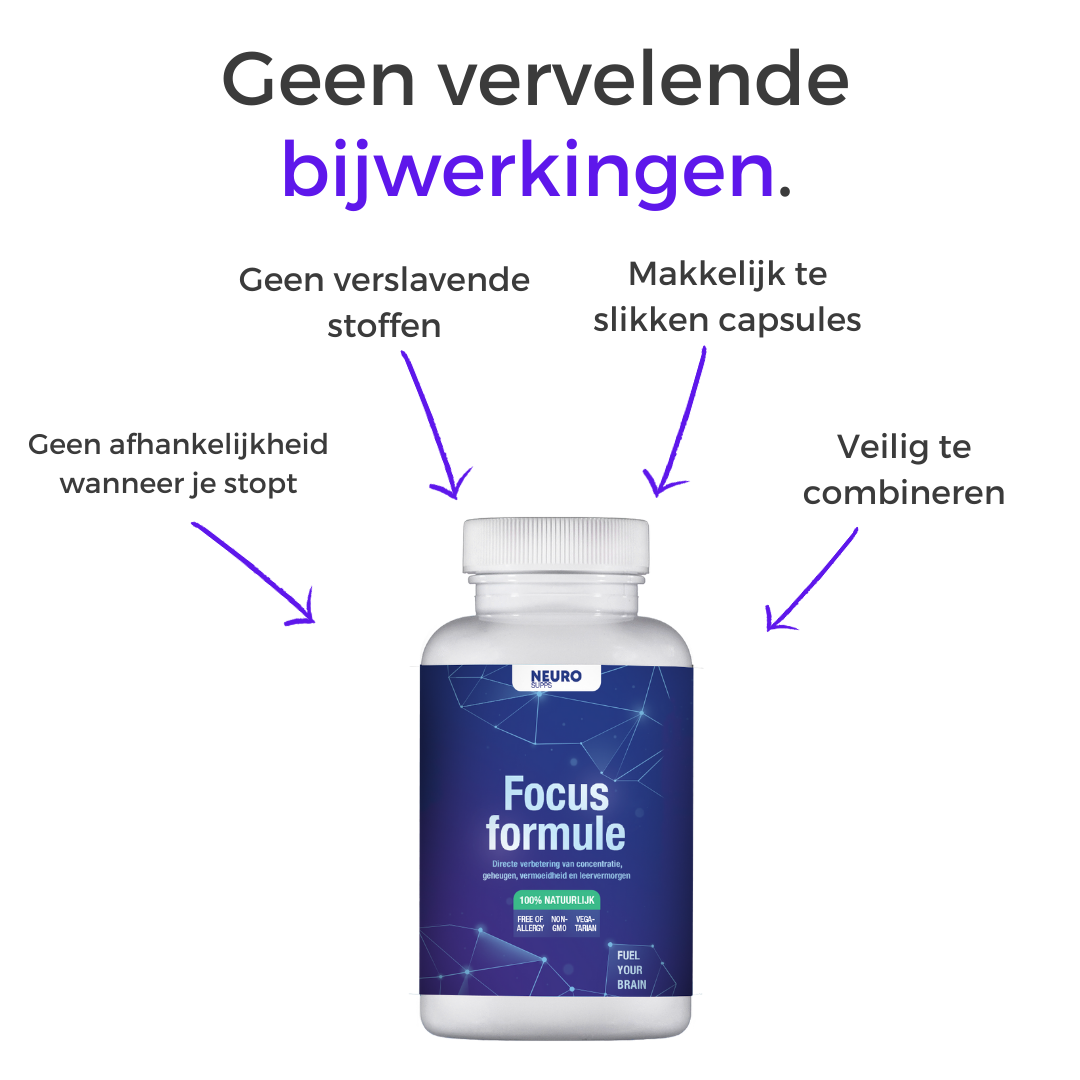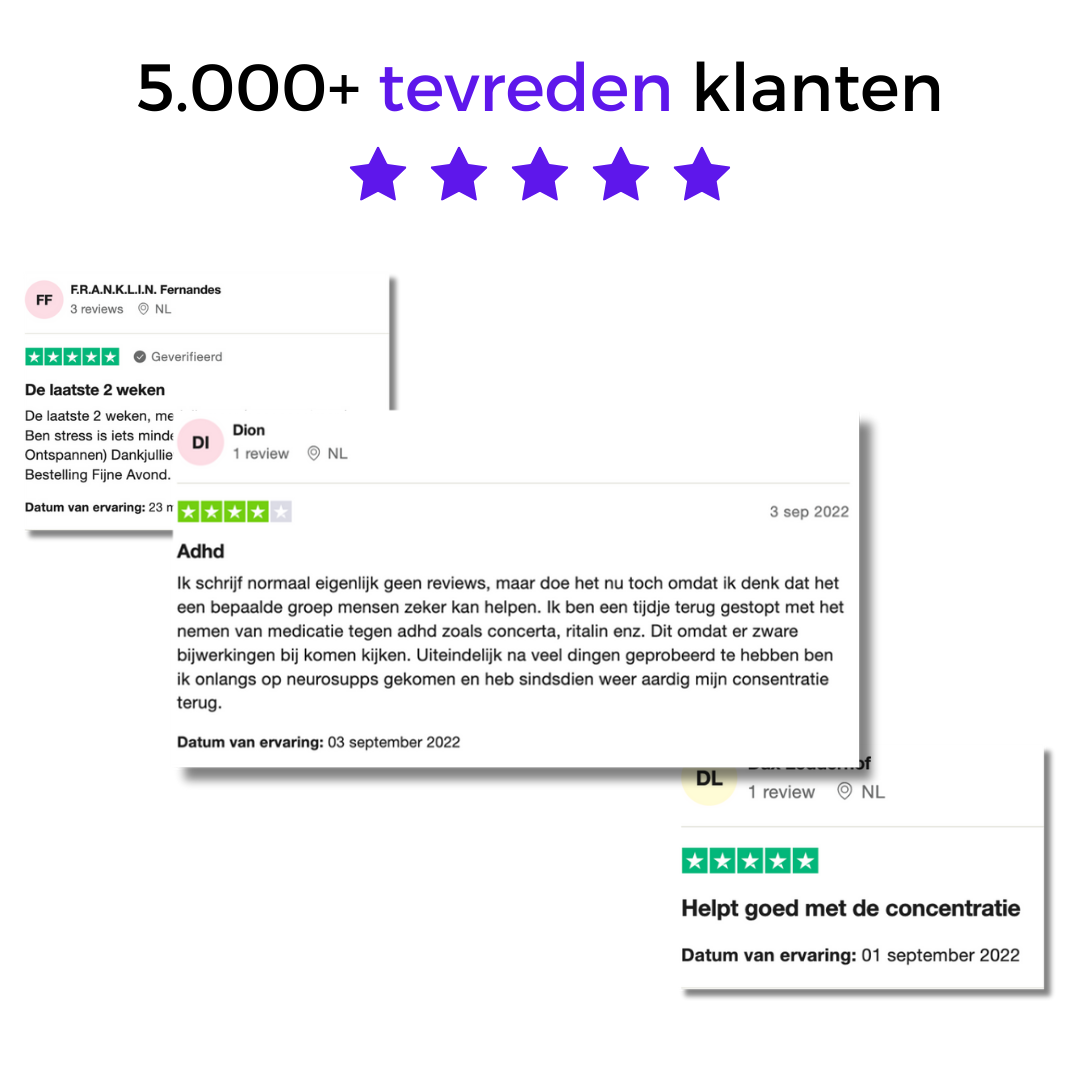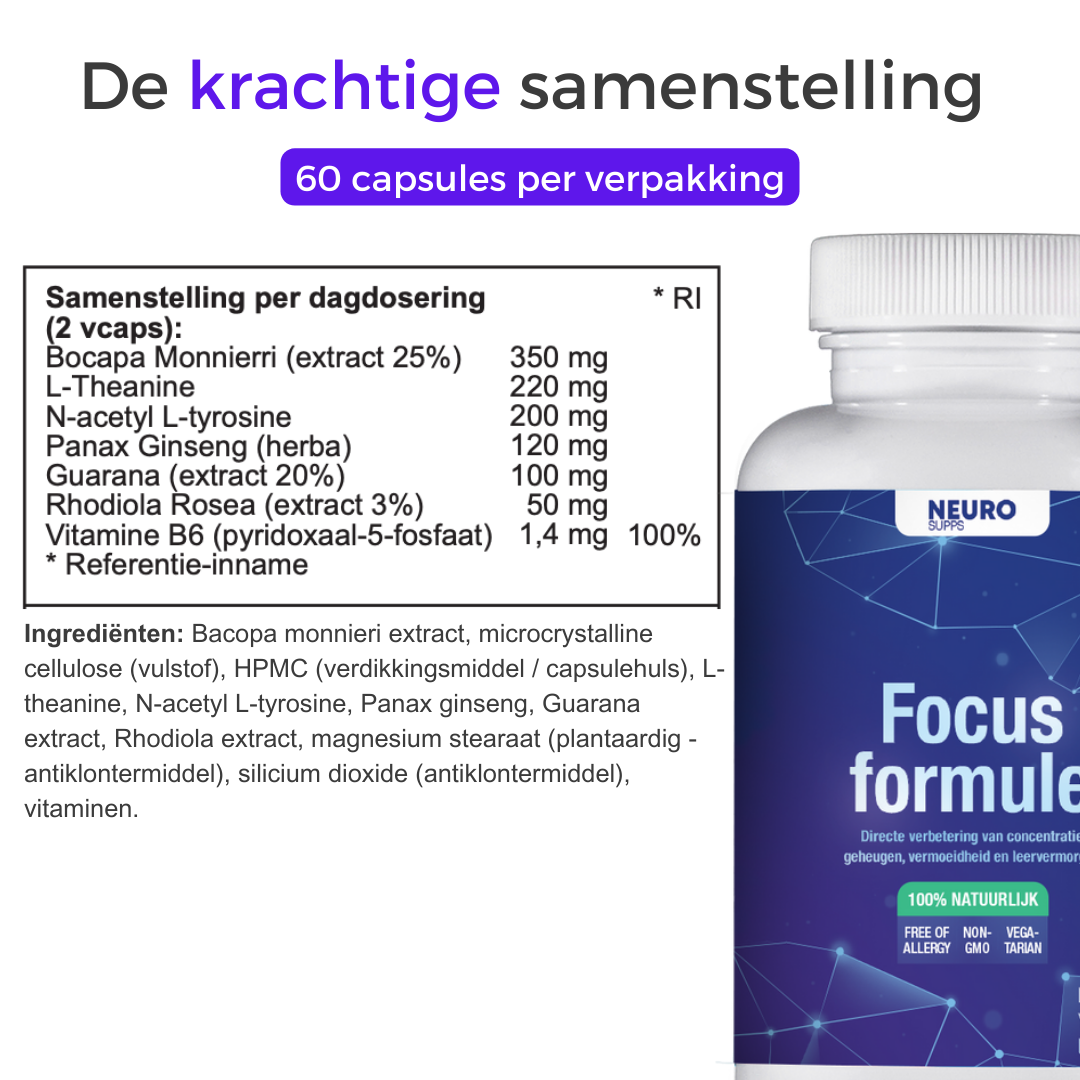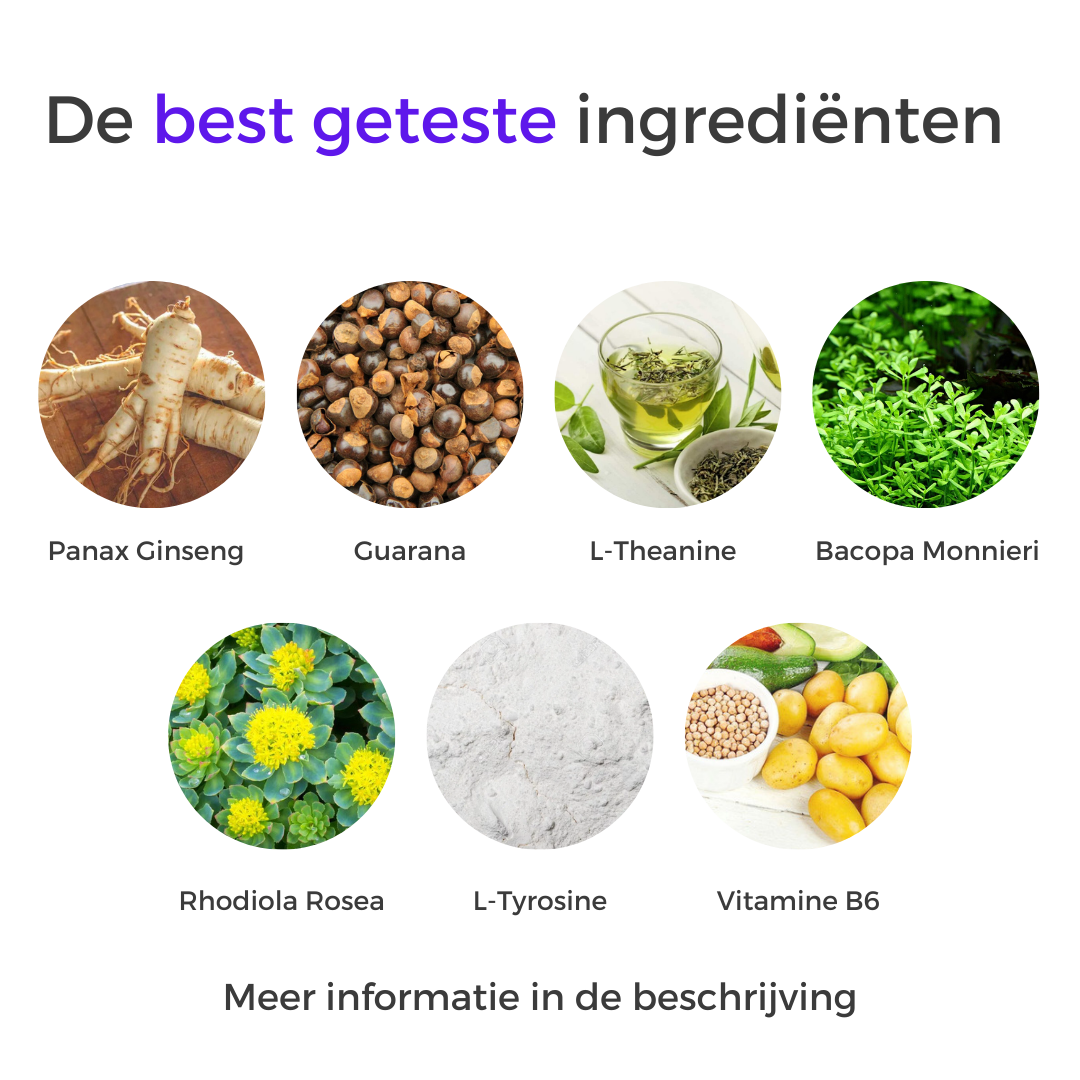 Neuro Nootropics - Concentration Formula
Regular price
€3999
€39,99
Ordered before 9:00 PM = delivered the next working day
In stock, ready to ship

Inventory on the way
---
Neuro Nootropics is a unique supplement with natural nootropics developed to achieve high performance. Neuro Focus (Neuro Nootropics) consists of the 7 best nootropics put together in 1 capsule for easy intake and dosing.
Only natural ingredients: This nootropic stack consists of only natural ingredients.
Developed for high performance: This nootropic stack is formulated so that you can improve your performance.
Supports cognition and focus: The mental upgrade for focus, productivity, cognition, learning performance and memory.
Not addictive: This supplement is not addictive, you can stop and start whenever you want. However, we recommend using it continuously for optimal results.
Perfect dosages: The dosages are scientifically substantiated and researched.
Complete Nootropic Stack - Neuro Supps - Neuro Nootropics
Neuro Nootropics is a nootropic stack good for the whole day. Composed of 7 nootropics that reinforce each other so that you can get the most out of your day. Nootropics are herbs that are good for the cognitive functions of the brain. Think of concentration, memory, attention, motivation, learning ability, focus, energy and creativity. Discover the powerful benefits of Neuro Nootropics for yourself.

Fewer distractions during your workout.
Neuro Focus (Neuro Nootropics) improves your focus and concentration, so that you suffer less from distractions during your training and can perform optimally.
More productivity in your day.
The focus and concentration boost of Neuro Focus (Neuro Nootropics) ensures that you can go through your day undisturbed, which increases your productivity.

Benefits all day long.
In addition to focus and concentration, Neuro Focus has even more benefits such as a better mood, improved motivation, cognitive energy and better memory.

Behind the formula.
Neuro Nootropics has been scientifically researched and substantiated. Neuro Nootropics is composed in the Netherlands and produced in Europe, so we meet all European requirements and the Warenwet so we can guarantee our customers the best possible product.

At Neuro Supps, transparency has the highest priority! All substances we use in our composition are tested by third parties and the product is produced in Europe.

THE INGREDIENTS
220mg L-theanine
L-theanine is often used as a dietary supplement to promote a sense of relaxation and calm. It can help reduce stress and support a sense of well-being. L-theanine is often taken by people looking for natural support for a balanced focus without feeling restless.
1.4 mg (100% RI*) Vitamin B6
Vitamin B6 is commonly used as an essential nutrient involved in various processes in the body. It plays a role in metabolism, the functioning of the nervous system and the production of red blood cells.
*Reference intake
350mg Bacopa Monnieri
Bacopa Monnieri, also known as Brahmi, is a plant commonly used in traditional Ayurvedic medicine. People use Bacopa Monnieri as a supplement to support cognitive functions and improve memory and concentration. It is also used to support a healthy mood and general well-being.
200mg N-Acteyl L-Tyrosine
N-Acetyl L-tyrosine is a form of the amino acid L-tyrosine that is more easily absorbed by the body. It is often used as a dietary supplement to support neurotransmitter production and promote energy levels. People can take N-Acetyl L-tyrosine to improve their mental acuity and alertness.
120mg Panax Ginseng
Panax Ginseng, also known as Asian ginseng, is a plant that has been used in traditional medicine for centuries. People often use Panax ginseng as a natural supplement to support general vitality and well-being.
100mg Guarana
Guarana is a plant native to the Amazon region and is known for its natural caffeine content. It is often used as a natural source of energy and can help promote alertness and focus.
50mg Rhodiola Rosea
Rhodiola rosea, also known as rose root, is an herb commonly used in traditional medicine. People use Rhodiola rosea as an adaptogen, meaning it can help relieve stress and promote general well-being. It is also sometimes taken to support cognitive function and maintain a healthy mood.
Nutritional information
Per 3 capsules
Vitamin B6: 1.4 mg (100% RI*)
L-Tyrosine: 200mg
Bacopa Monnieri Extract : 350mg
L-Theanine: 220mg
Panax Ginseng: 120mg
Guarna: 100mg
Rhodiola Rosea: 50mg
Take 2 capsules at a time with a glass of water.